Family canyon
Family canyon
After a short hike of about 45 mins and a break for a snack to build up your reserves, you head into the water for the next 3-4 hours.
All the while sliding down natural water chutes, swimming, jumps of up to 5m (not compulsory) and strolling through the water. Fun, laughter and sensations to be expected.
Book online
Difficulty
Duration
1

DAY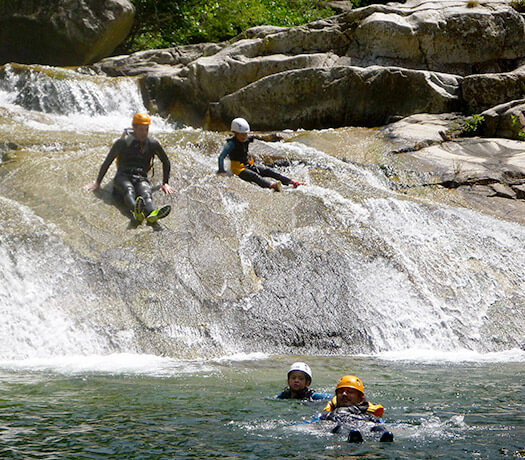 Important information
Minimum age 7 years
Be able to swim
Be physically fit
45 min hike to departure point with steep slopes
5 min hike back to base
45 min drive between meeting point and departure point (transport not included**)
The most frequented river is the lower Chassezac in Lozère.
What to bring with you:
Swim suit, sports shoes (not shoes for water), water at least 1 litre per person, a pick-nick (nothing delicate; sandwiches, dried fruits, cereal bars, etc.), eyewear-cord if necessary and personal medication if required (ventolin, etc.)
What we provide:
Neoprene wet suit, helmet, watertight container, canyoning rucksack and all technical equipment
Prices
• Individual rate : 62€ per person
• *Group rate & children : 58€ per person
Ceven'Aventure makes this special day trip the best deal for our customers. Why so? This allows you to fully enjoy your activity, take your time and enjoy the jumps and slides over and over again as often as you like.